It was with a heavy heart that we boarded the plane to Wellington for a long weekend of Beer tasting and general gluttony.
Who am I kidding? We were practically skipping with joy, well I actually was. Ben expressed his enthusiasm through the medium of not being asleep—despite the early morning flight.
As we stepped out onto the tarmac at Wellington airport we said goodbye to the budget and hello to deliciousness!
We spent our first day in Wellington touristing it up as much as we could, it was mostly a day of looking at stuff. After looking at some galleries and a photography exhibition, we spent the rest of the day looking at more stuff in Te Papa. I was disappointed that the giant squid did not live up to my expectations and the earthquake house is a bit of a non-event compared to the real thing (although it is great not to have to clean up after, or deal with EQC, so for that we were grateful). But the exhibitions were top-notch and we ended up spending hours there.
We were fortunate that not only we were able to go to the Andy Warhol exhibition, but that there was also an impressionist exhibition just next door. As a result we got to spend a lot of the afternoon looking at some very famous paintings up rather close. I may have been a little too enthused by the cloud room in the Warhol exhibition, but bright cow wallpaper and floating silver pillows just have that effect on me. There was some suggestion that squealing with glee is not appropriate conduct in an art exhibition, but I say if you don't want squeals of glee, don't have floating silver pillows. Simple.
The next day, we had tickets to the first afternoon session of Beervana and I had conveniently won tickets to the evening session as well. Starting at 11am, it was going to be a long day of beer consumption, we had to pace ourselves. We eagerly poured over the festival guide and marked the beers we wanted to try while our taste buds were still unbefuddled. Issued with our snappy looking festival glasses, we set to work sampling some of the best New Zealand has to offer (Plus a couple of Aussie beers for good measure).
The media brew competition turned up some interesting flavours, from Oddfellow Peppermint Stout, to the winning 66 Jet Planes, brewed with the delicious gummy candy of the same name. But Just Desserts was the one that captured my imagination. In all fairness it didn't really taste like a beer, but it did taste like awesome. A vibrant green, brewed with kiwifruit, served with meringue-flavoured creamy goodness and sprinkled with chocolate—it was boozy pavlova in a glass…magical!
We worked our way through sample after sample, taking notes as we went. Pausing briefly for a beer and cheese tasting session. Although as breaks from tasting beer goes, tasting more beer with cheese may not count.
The biggest queue of the day was at the Garage Project bar, we took several trips through that queue to sample their various experimental offerings. They brewed our two favourite beers of the day: The first was Cà Phê đá (Vietnamese Iced Coffee) which we are both pretty confident was just liquid chocolate coated coffee beans.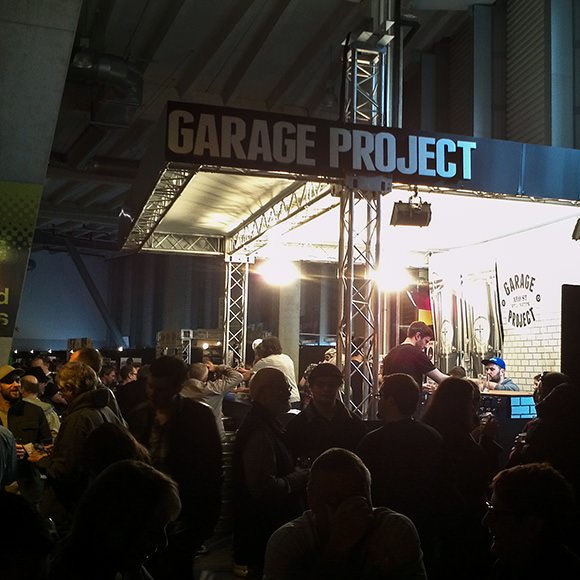 The second and definitely more interesting to watch the pouring of, was the fire poker blended Cockswain's Courage Porter, lovingly poured and then relentlessly branded with a 500º C poker. The warm beer was rich, creamy caramel, spiced goodness and pretty much tasted like liquid Christmas without all the annoying tinsel and singing.
These weren't the only novelties on offer in Garage Project's crazed science lab, other treats on offer included: Pernicious Weed beer jelly shots, Death by Nitro beer slushy and Hot buttered bastard rye (Another boozy concoction designed to warm your innards and leave you with the smug grin of someone who has just imbibed an entire festive holiday.)
It had been tough going but we survived the afternoon session. It wasn't long before we returned for the evening session and to attend a home brew master class. I can't say that we are now brew masters, but we took some notes and looked wistfully at the contraptions available for brewing brown gold in the privacy of your own garage. More beers were tried, food was eaten and the session continued much as the first had.
Finally after an arduous day of beer sampling (Again, who am I kidding, it was a blast). We had run out of tokens, eaten a lot of food, tried an abundance of beers, it was time to call it a day. We looked forlornly at the last mouthful of beer and wondered if maybe, just maybe, a brewery tour might be a good option in the morning…
---
Trip stats
Beers sampled: 51
Hours spent sampling: 10+
Hours spent looking at stuff: 9+
Number of siblings publicly embarrassed by us: 1 (Thanks for hosting us Gen!)
Money spent: A lot (sorry budget!)
Favourite beers:
Emma: Garage Project's Cà Phê đá
Ben: Garage Project's Fire Poker Blended Cockswain's Courage Porter
Favourite food: Anzac biscuit ice-cream
Favourite meal out during the trip: Breakfast at Fidel's
Most valuable thing we learned at Beervana: The course to true happiness is to be found through brewing your own beer
---