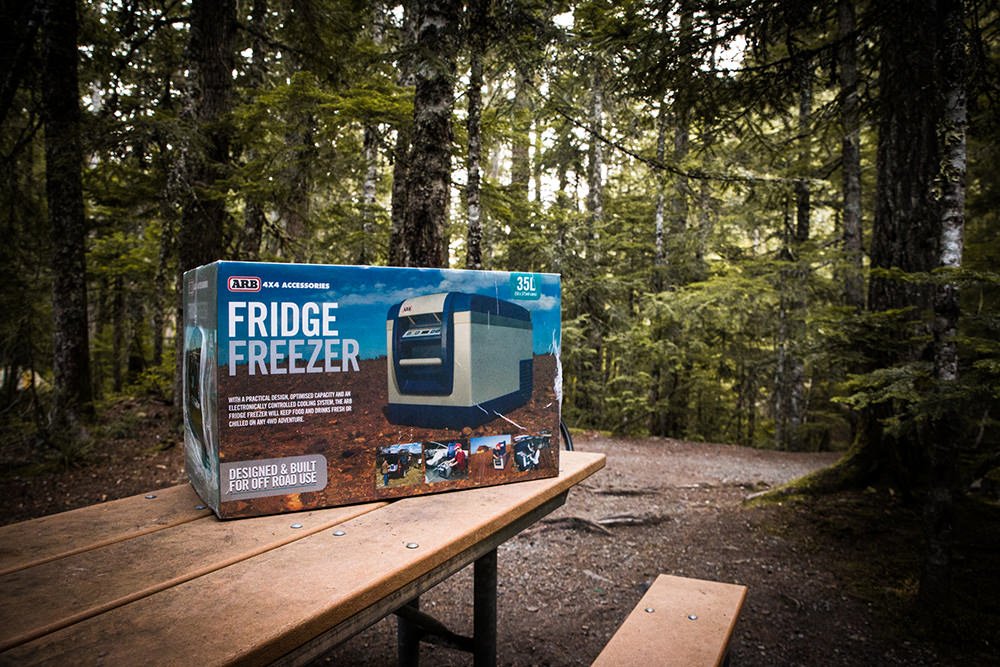 Second Battery
There are a several reasons why we decided to install a second battery. The main reason being we intend to install a fridge in the car, but it would also run the power inverter and LED lighting. Although we could run it all from the main battery, it is perhaps not a good idea when you're relying on that battery to start your car after staying in one place for a few days.
We had researched this topic fairly extensively. The best resource we found was Life Remotely's write up on installing a dual battery system. Especially since they have the same vehicle and are powering similar gear. Considering our limited resources and time, we needed something that was as easy as possible to install. We were on the verge of buying a Blue Sea Systems 'Add-A-Battery' Kit
 when we met with Peter and Dace Nuksa from Izaicinajums.com who had a T-MAX Dual Battery System
 and some extra fuses they were wanting to sell. So we bought this and everyone was happy.
Installation was easy enough if you ignored the instructions that came with the kit. Fortunately Peter had found alternative detailed instructions on a forum which I used mostly for inspiration—although the wiring diagram is pretty much exactly what I ended up doing.
First up, was mounting the battery. We chose the Optima yellow top sealed battery, mostly because it has good reviews, others have used this and it was the only sealed battery we could find at the time. We also made up the missing sections of wiring from what Autozone had on the shelf in their battery section.
We chose to mount the battery inside the truck, under the storage platform. We did this because we did not have the time or tools to install it anywhere else. Also, since I had already run cable for the inverter that I could use, it was the easiest option. To give us a base to mount the battery tray we simply screwed and glued a couple of lengths of wood into the storage platform. Next we drilled a couple of inch diameter holes through the storage platform to pass the cables into the battery compartment and to run new cables back out to the power inverter.
Then we ran the wiring for the battery monitoring unit from the solenoid through the centre console to where it was mounted beside the gear shifters.
The only trouble we have had with this system came from initially mounting the solenoid in the engine bay. It seems the additional heat from the engine caused the solenoid to turn off and stay off until it cooled down, which didn't happen until we stopped the car for the day. The easiest solution was to move the solenoid into the car, as per above photo. Since we did this, we have had no overheating issues.
Fridge.
Since we started the trip all we had to keep food cold—or rather less warm—was a tiny cooler which, although not ideal, we learnt to live with since there was promise of a fridge in the near future.
We had started looking for fridges in Alaska but no one had anything on the shelf. Although one could be ordered for us, there would be a freight cost so we decided to wait until Canada. Once in Canada there was nothing easily available until Vancouver, where we found the fridge we wanted at a marine supplier.
We had researched costs and it was the same price as Amazon, so we were sold. We were standing at the counter about to hand over our credit card when the attendant said the phrase we have come to hate 'with tax that will be … ' crap! we had forgotten about tax … again.
That meant a fridge we were prepared to buy was now a lot more expensive, we decided to hold off. Fortunately at the time, we were staying with Richard and Ashley from Desk to Glory  who gave us Matt's details from ARB USA.  After a few emails we had a fridge at a much more reasonable price waiting for us in Seattle.
Installation was easy enough, once we decided exactly where the fridge was going to go.
Due to its size and its need to have space around it there was only one option—it was going to have to be built into the storage platform.
This was a simple operation: Remove the top of the platform and cut a suitably sized hole in it.
Since we also had the ARB Fridge wiring kit
 and the second battery is mounted directly behind the fridge wiring it in was an easy job. We also installed the ARB Fridge tie downs
 to make sure nothing moves that shouldn't.
Now we can have cold beer, milk for our morning cereal and coffee and we can have perishable food for several days.