The USA—it's like New Zealand, only the junk food is cheaper and they drive on the right (wrong) side of the road. Also, for some reason they have these crazy four way stops where a roundabout would have been a good option. Although Ben seems to be warming to these after a few weeks of driving.
The first stop on our journey was a quick stint in sunny Arizona. We started with a few days in the desert heat of Phoenix, before heading to the cooler climate of Flagstaff in anticipation of the 2014 Overland Expo.
Emma thoroughly enjoyed the 30+º heat in Phoenix, but it wasn't really Ben's cup of tea, the temperature in Alaska is more to his taste.
The thing that surprised us the most about starting the trip, is that there has not yet been a point where we feel like we have travelled particularly far from home. Arriving in LAX wasn't particularly dramatic or eventful. The United States airport security was nowhere near as dramatic as people had suggested. (Although we did have to take our shoes off and they did check my hair for terrorists, everybody was very welcoming and friendly).
We flew on to Phoenix and, despite the desert environment, the huge multi-lane freeways and the fact that folk kept asking if we were from Australia, we still felt like we were not that far from New Zealand.
The first evening of our journey was pretty low-key, after 20 hours of flights and airports we arrived at our humble accommodations at the Econolodge near SkyHarbour airport to find that there were not a lot of options for a grand celebration dinner. So we opted on the posh dining option of: The local service station.
Lesson for the day: American junk food can be both magical and horrific, you have to choose wisely.
Phoenix is a huge sprawling metropolis, best explored with four wheels and perhaps some aircon. We started out with neither.
As Emma's jandals slowly cut through her toes on the cross-town walk to collect a rental car she came to the realisation that the jandals she had purchased in a fit of national pride* were a long way from being broken in. Despite some nearly severed toes we made it across town to pick up our first big bad-arse overlanding rig.
It's a Kia.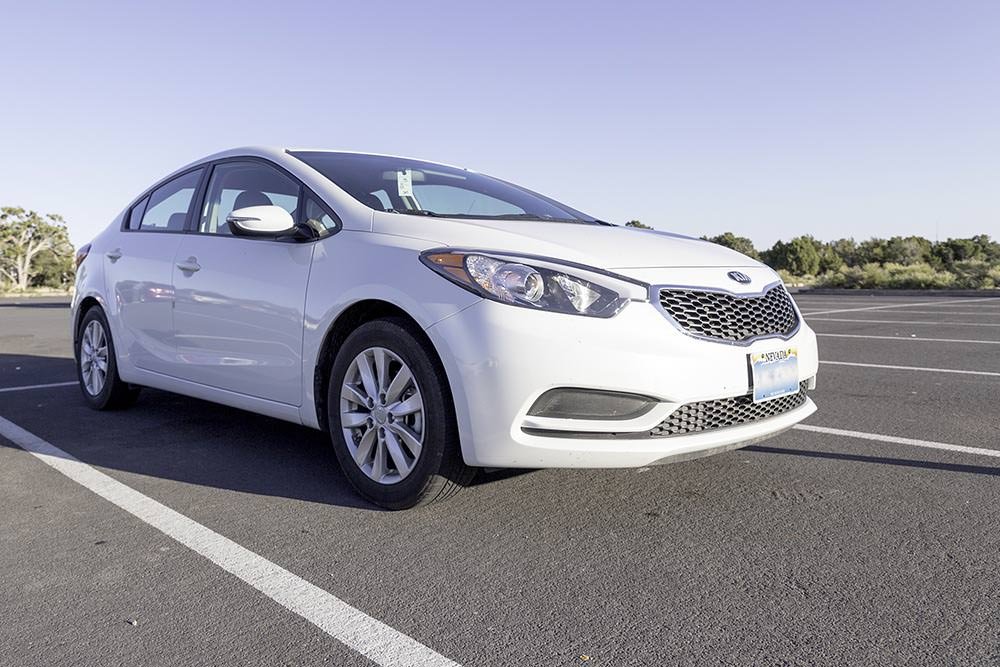 Having a way to get around town made it a lot easier to explore the attractions that Phoenix has to offer. The desert heat put us off the idea of walking up Camelback mountain. So we opted for the shorter casual stroll up to the hole in the rock. As the name suggests, it is a hole in a rock.
A surprise win was the Desert Botanical Garden. I had read that there was a Chihuly exhibition on, due to wind up the week we were visiting.
As well as housing some great sculptures and countless cacti, there were also some critters that called the Desert Botanical Garden home.
Ben has not shrunk, the cacti really are this tall. The Saguaro cactus can grow up to 20 metres tall.

The two other highlights around Phoenix for us were the Heard Museum and Taliesin West, Frank Lloyd Wright's winter residence and architecture school.
The Heard Museum is half-way between a museum and an art gallery. The museum excels at collecting together traditional art and the modern interpretations on these traditional styles by various Native American people.
Our favorite display was the Katsina Dolls, which are traditionally given as a gift to Hopi girls at important Katsina ceremonies throughout their lives. Each doll traditionally represents a Katsina (spirit) and is designed as a lesson about that spirit and it's impact on Hopi life and culture. The collection of dolls spanned the last 100 years and the designs were as varied as the carvers who made them and the Katsina they were representing. Also, it was possible to take home your very own Katsina style doll from the gift shop, I only narrowly avoided the temptation due to the cost and the fact that the Museum was closing.
These proper ones on display at the museum are all kind of awesome:
There were also plenty of other works of art to look at there…
Frank Lloyd Wright's Taliesin West used to be situated somewhat out of town. But the city of Phoenix has grown in the intervening years, so it is now nestled into a hillside in the affluent suburb of Scottsdale.
There were surprises around every corner with interesting rooms, theatres and gardens throughout. We sat in some rather fancy origami chairs, but sorry, no photos of that. The rules were no photos in the living room/bedroom and the chairs were super comfy, so we didn't want to get kicked out. We did take several photos outside and in other areas though:
---
Trip stats
Miles driven: Unknown
Food sampled:
Snyders Sweet and Salty pretzel pieces: Win. I wonder if you could eat these as a breakfast cereal?
Sasquatch Jerky: Loss. Nope. I miss Canterbury Biltong at this point.
Twinkies: No. Why do people like these? Cannot figure out what the big deal is. Would rather have Sweet and Salty Caramel Pretzels.
Coffee: Not sure what is up with the coffee in Phoenix, finding good coffee got to be too difficult. We know it must be around. The signs say coffee, but what they serve is merely a foul tasting black liquid. Also, still haven't figured out what 'half and half' is…
Most band-aids on Emma's feet at any one time: 5
---
Recommendations for other travelers:
Heard Museum: Set aside some time, such a wide variety on display, make sure to view all the Katsina dolls. Jump onboard one of the hourly tours to make the most of your trip, the guides are well informed and really bring the exhibits to life. But leave the rest of the afternoon to get lost in this museum's huge collection.
Frank Lloyd Wright's Taliesin West: If architecture and design interests you in the slightest, you'd be mad to miss it. Tuesdays and Wednesdays are discount days and it is best to book in advance online.
Desert botanical garden: Visit on the second Tuesday of the month for free day. The gardens themselves are very well set out and are a great opportunity to learn about some unique desert dwelling plants, wildlife and even people.
HI Phoenix—The Metcalf House: Laid back place to stay, nice shaded outdoor area to escape the desert sun.
---
*The back story being that a company in New Zealand who had been marketing their jandals as 'jandals' were served a notice by the trade mark holder of the brand 'jandals' that they could no longer refer to their toe-sandley, flip-floppy, thongy, jandal type footwear as 'jandals'. This was very problematic as kiwis have no other appropriate word in their vocabulary for this kind of footwear. The retailer chose to approach the situation by referring to the footwear they were selling as 'not jandals'.
The public uproar as the result of one man's attempt to restrict the use of a word so core to the kiwi spirit as 'jandal' resulted in what one can only assume was a very successful marketing campaign for the retailer of these 'not jandals'. End result, Emma purchased some for a lark, left her comfy old jandals at home, missed the comfy old jandals terribly, nearly lost her toes, survived, broke in the new 'not jandals' is now unsure whether this paragraph is infringing on trademark.