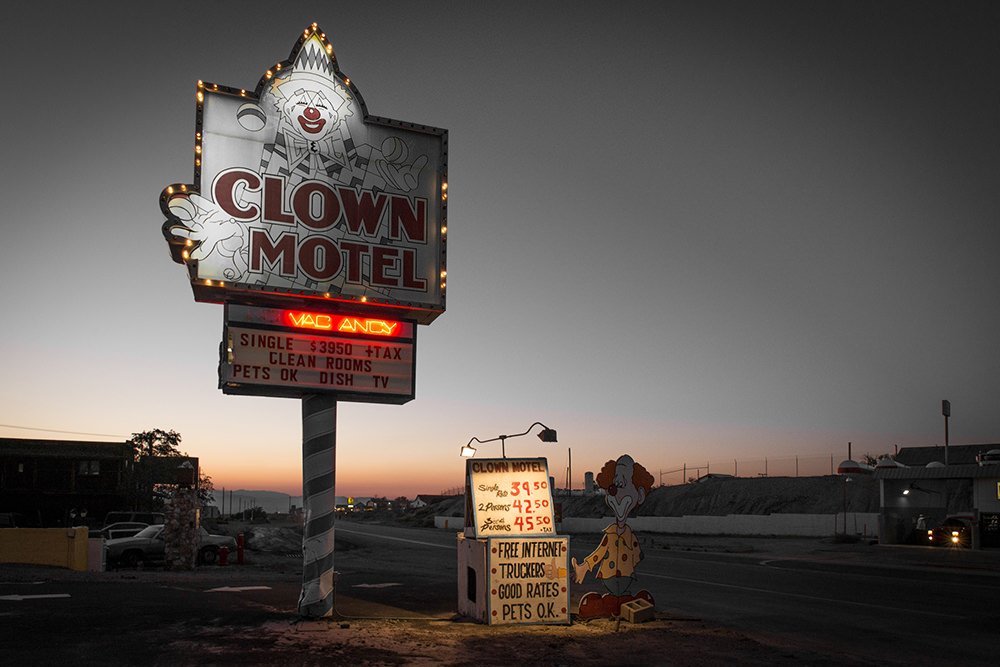 Going through our photos in order to catch up on the blog posts that we are so far behind on, I came across this little gem.
To be honest I had repressed the memory. The nightmares had finally subsided.
A week camping in the desert for Burning Man had obviously messed with our heads, because we decided that staying at the Clown Motel in Tonopah, Nevada was a good idea.
Really, after we saw this sign, we just couldn't resist staying. We arrived in town just after the sun went down, so we were pleased that they had a room available for us.
What we didn't see was the rather creepy old mining graveyard next door.
Yes, I just want to confirm that we chose to stay in a clown motel right next door to a haunted old-timey graveyard. Sometimes we don't make the best choices when we are tired.
After calming our nerves with a few tasty beers at the local craft brewery. We headed back to room 113 of the Clown Motel.
Yes. Room 113. Delightful.
Neither of us being especially coulrophobic, we settled in for what promised to be a comfortable night's sleep under the watchful eyes of some slightly menacing looking clown portraits.
Now while it was a night full of horrifying nightmares that will probably haunt us for the rest of our lives, it did prove to otherwise be a pretty relaxing stay. We are pleased to report that we were disembowelled by terrifying clowns exactly zero times during the night.
So would we recommend a stay at a creepy Clown Motel haunted by the restless spirits of miners from the graveyard next door? Sure would. But then we live in our car…