Border crossings in Central America are famous for being chaotic and stressful. We had heard stories of 'border helpers' swarming vehicles on arrival, everyone trying to get their cut, bribes, fees, corrupt bureaucrats, confusing paperwork, people stuck camping on borders for days because of technicalities outside their control.
It was with some trepidation that we rolled up to the border with Guatemala.
El Ceibo crossing between Tenosique, Tobasco, Mexcio and El Ceibo, Peten, Guatemala is as far from chaotic as you could imagine. Peaceful, calm, relaxed and friendly. We breezed through the obligatory paperwork for the vehicle, bid a friendly farewell to Mexico and were warmly welcomed into Guatemala with a few quick, easy stamps and some photocopying.
Our first destination was Flores, the colonial town on an island. The man working the immigration counter had told us to expect great things.
We were actually a little underwhelmed.
I guess we had just seen too many colonial towns in Mexico.
Flores was a small run-down collection of tin-roofed structures huddled together on what appeared to be a slowly sinking island in the middle of Lago Petén Itza.  It was the last stronghold of the independent Itza Maya, held against Spanish Conquest until 1697. (Well over a century after the Yucatan Peninsula). Sadly, today there are no remnants of the Mayan city of Tayasal which stood on the island before this latest collection of ramshackle colonial buildings.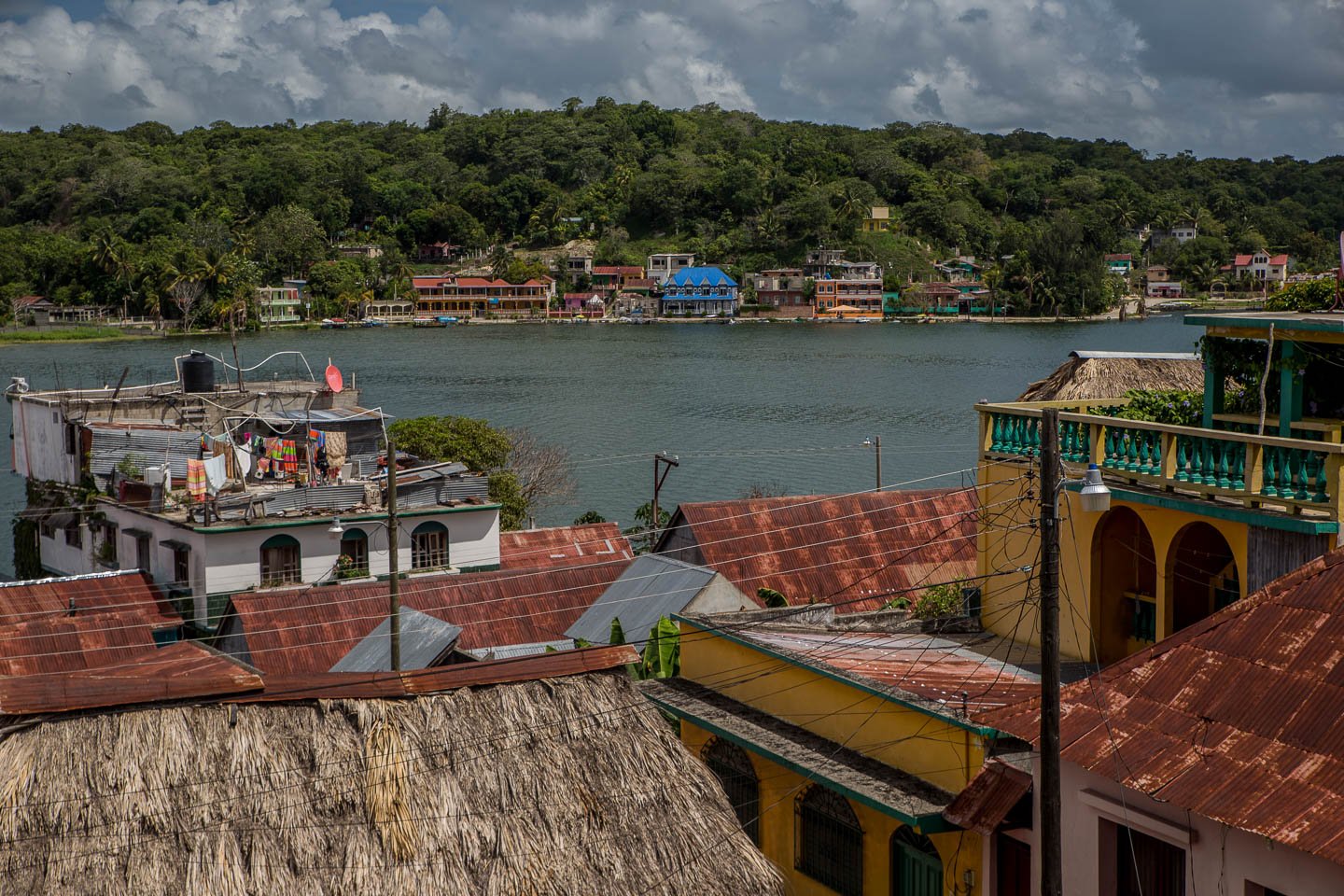 Attached to the town of Santa Elena by causeway it is easy to visit the island of Flores without having to contract a boat. It would have been easy to walk a circuit of the small island if large chunks of the outer road hadn't been under water at the time.
Flores might not have captured our imagination. But what couldn't be denied, however, was that we were already falling for Guatemala. Sure Flores wasn't shaping up to be as spectacular as we had hoped, but the people of Guatemala were sufficiently friendly and welcoming that we immediately felt right at home.
We whiled away a couple of days in the area. Spending time setting up local sim cards, catching up on laundry, wandering the narrow alleyways of the island and watching boat captains land their vessels in the flooded streets of the town.
We also took a detour to visit some nearby ruins.
Only in Guatemala can you be driving along a road and suddenly find yourself passing through the central plaza of an ancient Mayan temple complex. Sure the ruins weren't that spectacular compared with some we have seen, but you just can't beat that convenience.
There were of course some rather famous ruins not-to-far from here—Tikal.
After visiting ruins teeming with howler monkeys and spider monkeys, ruins hidden in the jungle, some still barely excavated, ruins with exquisite carvings, hidden passageways, huge temples, spread out over a vast area or with a spectacular view. We weren't sure what Tikal would have to offer.
We camped within the park area for the ruins so we were able to wander in the front gate right on sunrise and had the ruins to ourselves for an hour or two.
Soon, the enormous, steep-sided temples emerged from the thick morning mist. As we wandered the vast site we began to truly appreciate the sheer size of the location. The dull morning light, filtered through low-hanging cloud didn't make for the most spectacular ruins to photograph.
We had visited dozens of sites in Mexico and Belize. Each one had something special or unique that made it worth a detour. Here in Tikal, we had thought the unique thing would be the steep-sided temples famous from the postcards and documentaries (like Star Wars: Episode IV A New Hope).
But what actually made Tikal so appealing was that it had a bit of everything.
Ruins overgrown by jungle.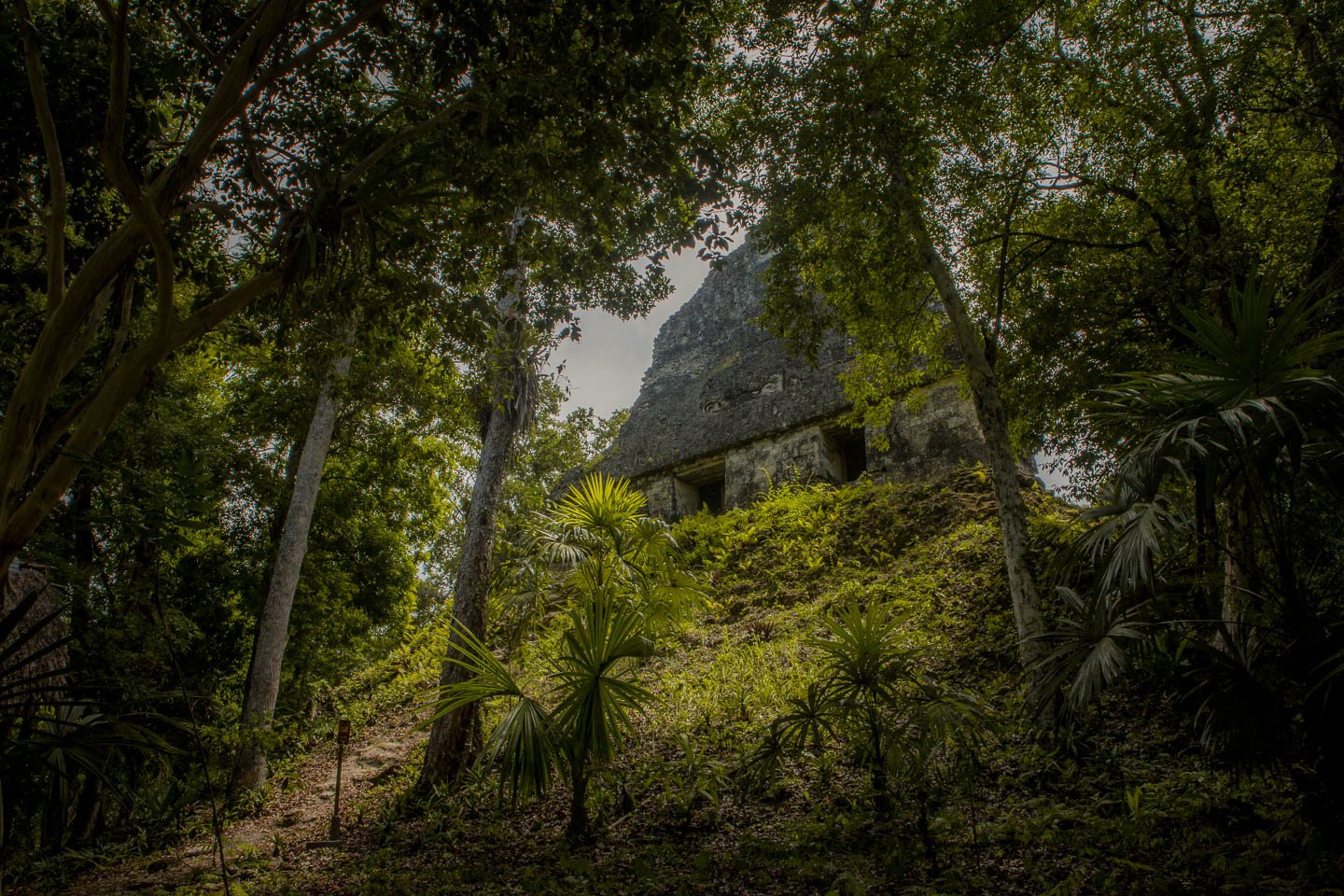 High temples that could be climbed for a better view.
Carved monuments.
Hidden passageways.
Jungle surroundings teeming with wildlife. From roaring howler monkeys to nimble spider monkeys.
Flocks of comedic toucans.


To this little fox-type critter.
Tikal had a mix of everything that makes visiting Mayan ruins great. We wandered around the ruins until the sun was high in the sky, the cloud was starting to burn off and the morning crowds were rolling in.
Magic.