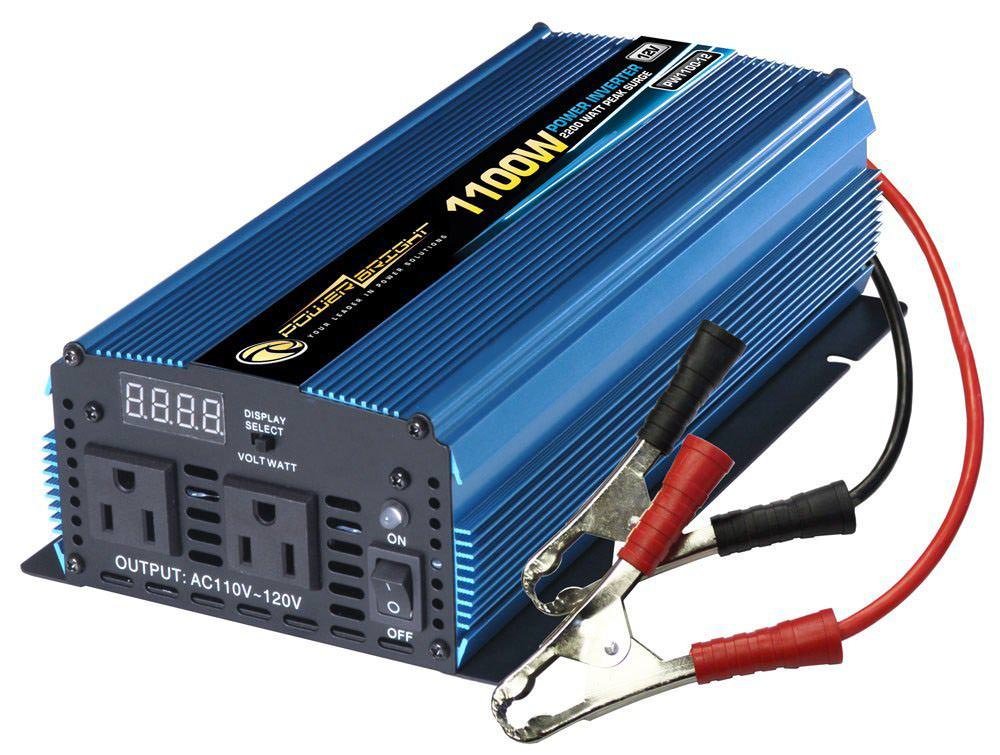 At this stage, the number appliances requiring charging in our technological arsenal has become somewhat of an issue. So rather than visiting coffee shops and public libraries carrying arm loads of laptops, phones and camera chargers—we decided a power inverter was in order.
It turns out, for us, the easiest way to shop for anything in America is to start with Amazon. So we jumped online and shopped for a cheap inverter with acceptable reviews that would be able to handle the load.
We settled on a Power Bright PW1100-12, mostly because it was a cool blue colour and had an lcd display …
… it also had a sufficient amount of ticks in the reference chart.
But most importantly, it had 3.8 out of 5 stars in the reviews.
Having wired stereo equipment in cars before, I figured installation would be fairly straight forward. And it was, it was finding and buying the wire and bits and pieces that proved to be the hardest. I had incorrectly assumed Radioshack was much like Dick Smith in New Zealand, cable sold per meter, individual fittings, fuses etc. Nope, we had to go slightly more industrial. We ended up going to a outfit called Polar Wire. Which turned out to be ideal as they had everything on the shelf and put together the cable for us professionally.
Now, I know what your thinking, "Thats some thick cable!" … well I had decided we needed #6 gauge cable but when we turned up at Polar Wire they had sold out of normal #6 wire, however they did have paired arctic grade #6 … when in Rome. This means the inverter cable will operate between -55 and 105 degrees … but at -55 it will be the only thing operating.  I originally wanted an inline fuse but instead opted for a waterproof circuit breaker.
Although it was slightly more expensive it would mean we wouldn't have to carry replacement fuses… and it's waterproof!
Fortunately, there was a large enough grommet with plenty of room to poke this cable through into the cab. I then ran it down the side of the drivers side and under the drivers seat, under the carpet, and cut a hole right under where the inverter will be mounted.
The inverter is wired directly to the battery until our second battery is installed then it will be swapped over to that.
Must have done it right if the green light is on.