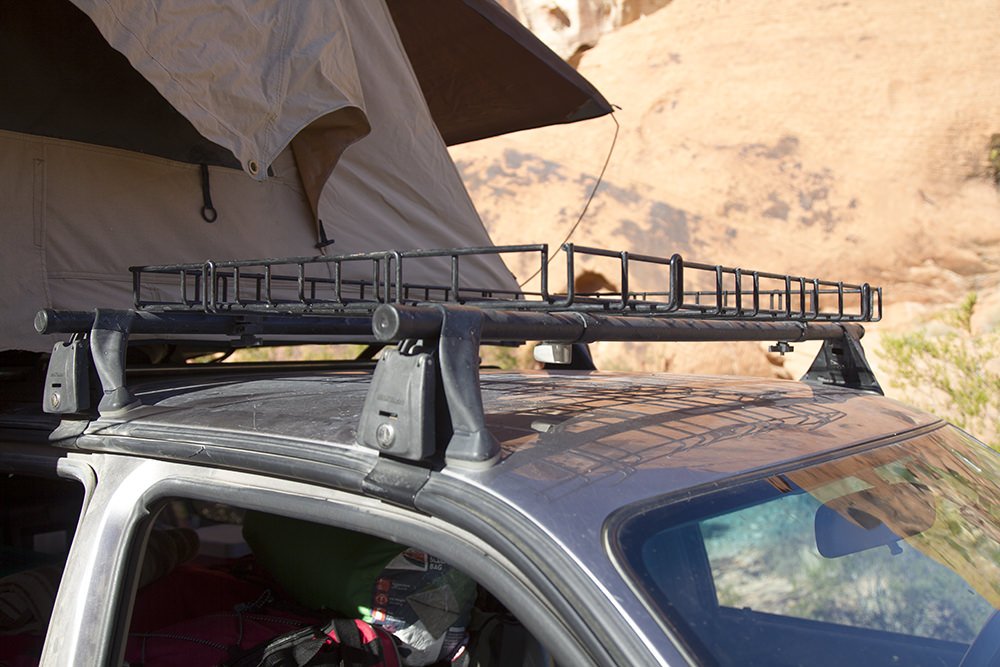 Somehow the 4Runner was filling up with stuff (more than could fit in the front seats if we needed to sleep in the back). Also, our spare fuel container had leaked inside the car on the Dalton highway, which prompted us to never have any sort of fuel stored inside the car. The main roof rack was taken, we could have arranged something with the new tow hitch/bike rack. But in the end, after a visit to ReRack (a company in Portland that sells new and used roof rack systems) we decided on a second roof rack.
It was a bit of a squeeze. But we moved the tent as far back as possible on the main rack, leaving just enough space to install a second rack forward of it.
We were helped by Chester at Re-Rack who, at first, wasn't convinced that a second rack would fit. After locating all the parts and test fitting it for us, decided that it was going to work. The final install was completed before we even left the parking lot.
Once we had the second rack we needed a suitable, lockable, box to mount to it. Initially we were looking at steel tool boxes. After inspecting a few, we soon decided the cost and extra weight was was going to be too much. Luckily, we came across a plastic truck box which took up half the rack space perfectly, and was a lot more affordable.
Initially we had been holding the gear we kept in the rack down with tie downs which worked fine—until we needed to leave the car unattended. Although chances were nothing bad would have happened, it would have been a hassle to replace anything that went 'missing'.
This meant every time we left the car anywhere overnight we would have to jam the gear from the roof rack into the car, this was ok the first couple of times but we needed a permanent solution.
We decided to permanently attach the box to the roof rack. We did this simply by bolting through a strip of aluminium inside the box, through the box itself, through the rack and through another strip under the rack.
Bolting this all together secured the box to the rack firmly. The box itself is secured closed with padlocks. Once the storage box was secured we had the problem of securing the other gear, cooker, fuel and shower bucket. Initially we were going to run chain around everything, then we were going to make our own steel cable from parts at Home Depot, fortunately Emma spotted pre made tie-out cable for dog runs that comes in varying lengths. One 15ft cable and job done.