After all the driving around we'd been doing in the USA, followed by some off-road adventuring around the mountainous back roads of Baja. It was time to slow down and enjoy the beach again.
There is very little to report about our time in San Felipe.
We simply spent several mornings and evenings on the beach, watching the sun rise over the Sea of Cortez and then sink down behind the hills of the peninsula to the west.
Conveniently, this sunrise/sunset thing happens pretty much daily from our experience (aside from in Alaska and the north of Canada, who were a bit weird and often couldn't organise a regular daily sunrise or sunset). This meant we ended up with quite a number of photos. We won't put them all in here, because—let's face it, there are only so many spectacular sunrises that you can look at before you lose interest.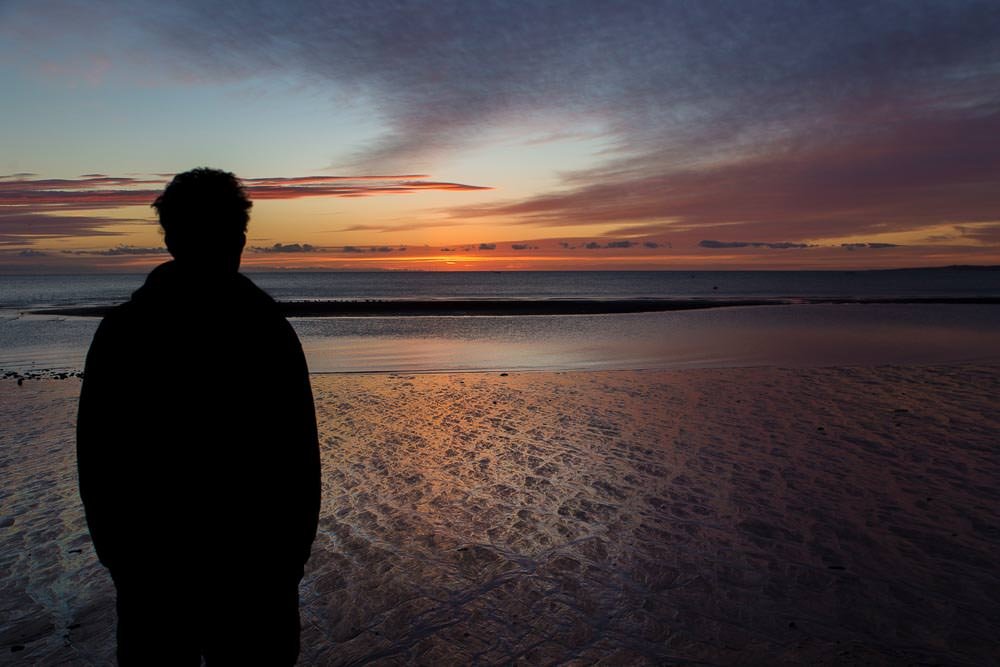 Aside from watching a few sunrises, our only chore was finding a way back in to our locked rooftop box without a key. (Ben had misplaced this in New York.) Fortunately, despite our complete lack of useful Spanish words for tools, saying 'no llave' (no key) and pointing at the padlock was enough to prompt the nice man at the fabrication shop to return with the appropriate tools for breaking in to the roof-top storage box. *
Now we could finally get to our snorkelling gear again. Just in time too, with beautiful beaches like this calling our name:
Excellent! We had found a beach that looked like what we had pictured when we imagined the sandy beaches of Baja. Although the weather wasn't as warm as it looked, so we chickened out on snorkelling.
Since Baja is famous for its inky-black night skies—perfect for stargazing. We took the opportunity to try to film a time-lapse video of the night sky and our camp spot.
Unfortunately or peaceful beach ceased being quite as peaceful as the increasingly boozed locals camping a bit further along the beach kept driving past on tequila runs. After the third close encounter between the camera and a car full of celebrating locals, we pulled the pin on the time lapse and tried another from the safety of the palapa. We've included both short clips here for your viewing pleasure, but rest assured we are working on improving our time-lapse technique and the videos are getting better each time. We might have this sorted by the time we get to Argentina:
Time lapse lesson one: Don't put the camera where someone might drive over it.
There is still something incredibly relaxing about camping on the (mostly peaceful) beach.
On the Baja Peninsula, our lives were starting to follow the rhythm of going to sleep with the roar of the ocean in our ears, before waking with the sun for a morning walk along the beach to fossick for shells. (With the obligatory morning coffee in hand, to make up for waking up with the sun of course.)
It isn't in our nature to relax too much though, so we packed up the truck and hit the road for some more adventure. As we continued south along the peninsula, the highway took us away from the coast and through fields of giant cacti.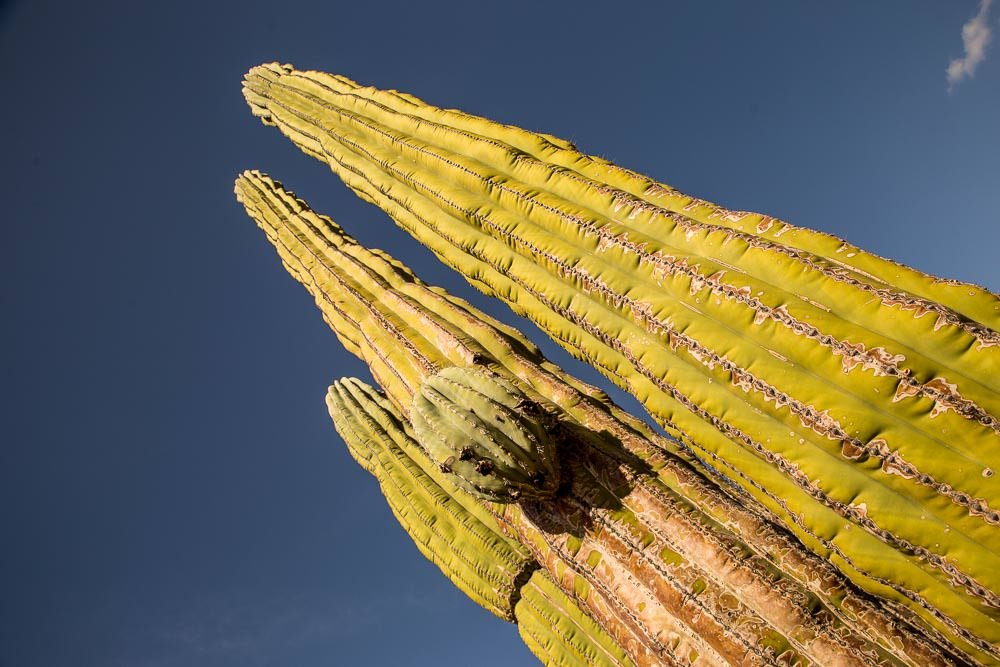 The down-side about stopping for lunch among a forest of cacti, is that this sort of thing ends up sticking through the bottom of your jandals:
We continued rolling south and made it to the famous Coco's Corner. "Famous for what?" I hear you ask. Well being there, really.
Coco lives out in pretty much the middle of nowhere. He told us that about one out of 50 cars that find themselves in the neighbourhood will stop in to say 'hi'. We wonder how things will change as the process to convert the dusty Highway 5 between San Felipe and Highway 1 into main thoroughfare progresses.
He opened a hefty book on the table and asked us all to fill in our names and where we were from. As we added our names to the enormous list of past visitors, it became pretty clear why there were so many stickers, cowboy boots, t-shirts and oversized pairs of knickers hanging from the ceiling and walls. This Coco is one popular guy.
Coco himself is quite a character, as is to be expected from someone living out in the middle of desert on his own. He was pleased to allow Ben to stick a bit of New Zealand money to a higher part of the wall, but only after making sure he was going to do it just right and put it on perfectly straight.
He was also nice enough to pop our sticker in a prime spot by his front window. We can't help but feel, with the abundance of visitors he receives each year, that it won't be long before our sticker is replaced by another!
While talking to Coco was interesting, we were also really stoked to meet his cats. He had several.
He said he kept cats instead of dogs because they had better bathroom habits and killed snakes instead of just barking at them. Seems reasonable to us. We now can't remember all their names, but he told us this kitty's name in Spanish meant 'too much hair'. Coco is our kind or people.
You can tell he has lived a challenging life out in the backwoods of Baja, having lost both legs to diabetes can only have made this more of a challenge. But he has carved out his own unique space in the desert. A place that people flock to from all over the world. Make sure that if you are passing by, you are one of the people who stop for a chat, buy a beer or a coke and sign your name in his book.
---
* (Here I should probably mention that Ben has since found the 'lost' key, but we now have no padlocks to match the key. You would think it would be easier to keep track of your possessions when you live in such a small space. Turns out that is not the case, at least not for us.)