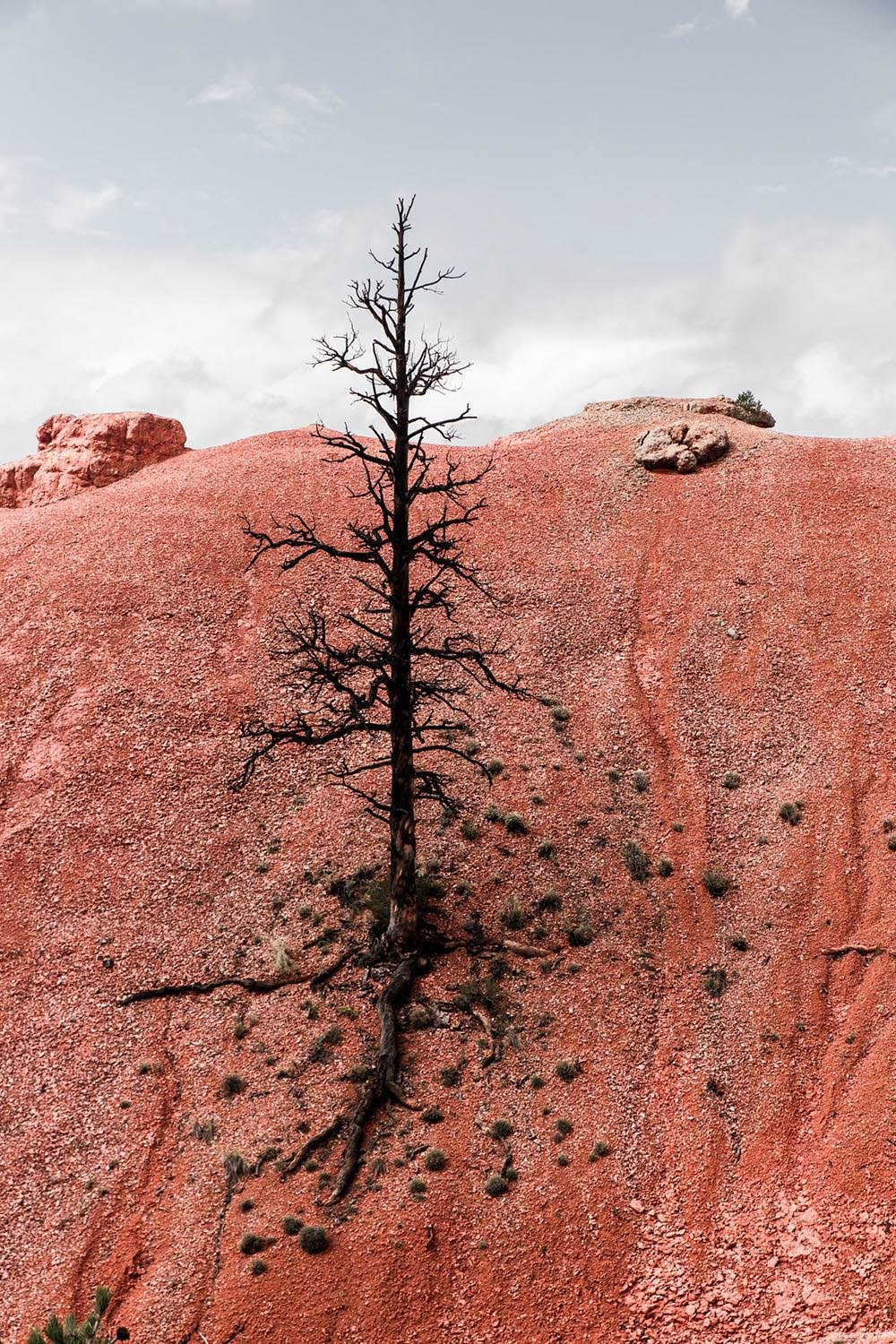 After spending some time driving aimlessly around Utah, we reached the conclusion that it is quite possibly another planet.
Or at least that is the only way we can explain these landscapes:
Utah has slightly more than its fair share of National Parks. We are pleased to say that we had the opportunity to visit several of them. Despite this, we left feeling that we didn't spend long enough exploring them at all.
Then again, there are only so many mind-blowingly awesome landscapes you can look at before you start to get a bit jaded about it all.
Our introduction to Utah involved leaving the somewhat dry desert of Nevada to arrive in the not-so dry desert of Utah. 
We spent our first night camping in the pouring rain at Coral Pink Sand Dunes State Park. As usual, Emma had picked the location, based entirely on how interesting the name sounded. After a few disappointments, Ben was understandably wary of trusting Emma's 'judge the book by its cover' approach to choosing a camp spot.
Despite the torrential rain sweeping through in wave after wave, we both agreed the scenery was pretty sweet:
Even better—a new novelty at state parks: Both flush toilets and a hot shower included. Fancy. 
The one thing that would have made this visit complete would be owning an ATV. Yes, that's right. Utah has insane, brightly coloured sand dunes and they are cool with it if you drive all over them with ATVs! Next time Utah. Next time. (Note to self, future vehicle must include ability to tow ATVs.)
Sadly we only own push bikes and they aren't really the best vehicle for exploring sand dunes. Walking is actually easier.
Next stop was Zion National Park. Where, in typically Flightless Kiwis style, our poor planning had us arriving at the wrong time. On a busy weekend when all the local campsites were full and the park itself was busier than your average shopping mall is on Christmas Eve. 
We just opted for a quick rainy tour through the road that was open to through traffic. We spent the drive saying things like: "Sure, we'll be back we'll catch the shuttle, do some walks, check out the park properly". 
Never plan to 'do something later' it doesn't happen. Other 'somethings' come up. 
For us, the 'other something' was the rest of Utah. 
We found ourselves taking in some amazing sights on State Route 12. The Red Canyon was an impressive and unexpected find to drive through. It soon had us forgetting about our plans to return to Zion. 
Zion who? This place is clearly meant to be on Mars.
Luckily for us, despite a continued lack of planning, we did manage to nab a campsite in the equally busy Bryce Canyon and spent a couple of days exploring the trails around the area.
Emma took a number of photos from above the canyon. But suffice it to say that most were variations on the one below:
Plus one or two of the bold little trees gripping on to the canyon's rim:
But to spare you from looking at more photos of the same thing, trust us when we tell you that Bryce Canyon is huge. Really huge. And it all pretty much looks like this:
The photos just don't really do this place any justice, it was far more massive than any of these photos imply.
The most memorable part of our visit to Bryce Canyon was definitely our sunrise walk along a trail down in among the hoodoos and eroded rock forms.
By this point we had realise that we weren't going to be leaving Utah any time soon and continued to head east. 
Yet again, sold by an enticing sounding name, we found ourselves stopping at a state park. This time Kodachrome Basin.
Here we were greeted by further surreal eroded landscapes:
Adorable lizards:
Some questionable rock forms: 
And perfect, clear night skies, which was a good chance for a few Milky Way photos.
Because we know how easy it is to become jaded by staring and insane other-worldy landscapes for too long. We'll pause our tour of Utah here and ask you to stay tuned for Part 2 of our travels to planet Utah in a future blog post.