This is the one. This is the post where we finally extract ourselves from the seemingly inescapable vortex of Santa María del Tule.
Don't get too excited. We only drove a few kilometres down the road.
Conveniently, there were some pretty amazing things just a few kilometres down the road.
First stop. Monte Alban.
We'd already looked at a lot of ruins. But it would be rude not to stop at this famous site.
You can see these panoramas in more detail in the panorama gallery here and here.
Spectacular. But that was just the start of the day. The whole time we had been in Oaxaca Emma had been muttering about 'Hierve el Agua'. But we'd decided to wait and visit there on the way out of town.
After 8 weeks of listening to Emma go on about it (and she does go on). It had better be good. Really good.
Hierve el Agua is a series of 'petrified' stone waterfalls, formed as mineral rich waters bubble up from the ground below and deposit their minerals and they flow over the edge of a cliff.
It functions in the same manner as a cave systems forms all the amazing underground shapes beneath the ground. Only on the surface. On a clifftop. Overlooking a spectacular valley.
I ask, what is there not to like about this one?
Well, potentially the crowds, but we were there mid week and it wasn't too busy when we arrived, mostly because the sun was going fast and the day was getting a bit too cool for that swimming about malarky.
Not wanting to miss the opportunity for a sunset dip on a cliff-top natural infinity pool, we donned our bathing suits and joined the last of the day's visitors for a chilly swim. We were pleasantly surprised to find that the water temperature was a lot warmer than the air temperature.
We were a little disappointed to find out that the two larger pools for swimming were actually man-made—with walls added to dam the flow of water. (Without those, we suspect you would have been lucky to get your ankles wet in any of the natural pools that were forming.)
But who are we to complain. The place is spectacular.
We set up our tent on a cliff edge with a view of the pools from high above and waited for it to get dark for a bit of stargazing.
It looked like some other visitors had the same idea, but they headed down to the pools after dark with torches to light up the trees and the pools for their night-time shots.
Distant storms added a touch of colour to the skies and made this one of our favourite views from a camp spot on the trip so far.
Emma even managed to drag herself out of bed bright and early to catch sunrise (and a few more photos in the pre-dawn light).
You can see these two panoramas in more detail in our panorama gallery here and here.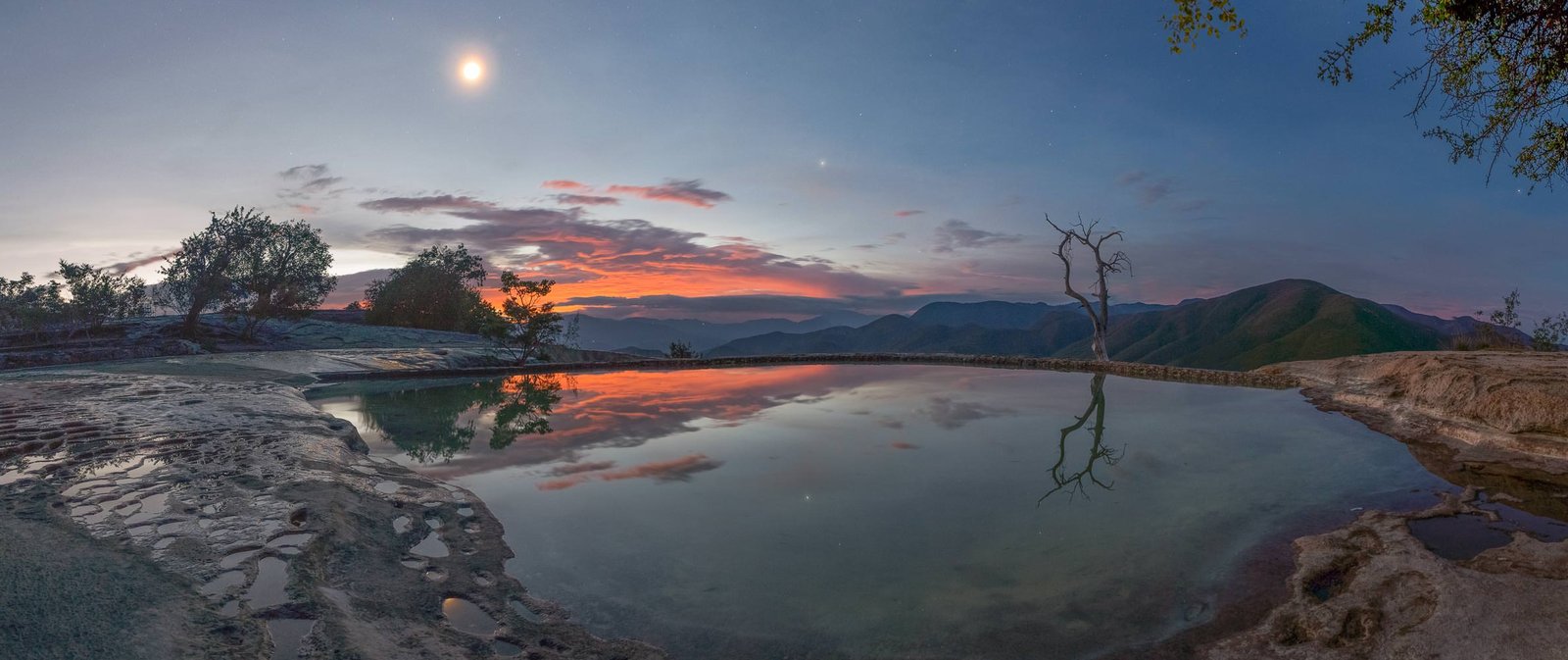 Well, that was until some guy showed up and dumped one of his cameras on a tripod right in the middle of everything. This was in order to shoot a time-lapse while he took photos of his girlfriend doing yoga with his other camera.
Tosser.
Being New Zealanders, rather than giving them a piece of our minds, we wished them a good morning in the best passive aggressive tone we could muster and carried on with our day.
But anyway, if you see any photos online that look quite a bit like the one above, (but without the tripod) and they are accompanied by thousands of photos of a girl doing yoga from every possible angle… Please bear in mind that guy is, in fact, a complete and utter tosser.
Luckily the view from far enough away that you couldn't see the couple on their yoga photoshoot was also spectacular.
Unbelievably, we actually stuck to our plan to leave Oaxaca state and only spent a few hours in the morning wandering around and enjoying the scenery before heading to the next destination… Chiapas.
Ok, so we didn't rush away too fast, we stayed for a delicious pancake breakfast from our clifftop balcony view over the infinity pools. Like a luxury hotel, but you make your own pancakes and there's no tiny toiletries or cable tv. (Although there was a view of some guy who was still taking photos of his girlfriend doing yoga…)
But, after a late start driving, we genuinely, seriously, unbelievably headed south out of Oaxaca state!