By this point we were clearly not strangers to the Interstate Highways of the USA. We wished we were, because, let's face it, they make for some dull driving.
But they are also the most efficient way to get from A to B when A and B are a long way from each other.
That being said, there is only so much driving on the interstate you can do before you go clinically insane. So this blog post is the tale of the detours we took in a fruitless attempt to maintain our sanity as we drove from east to west across the United States, in a desperate dash to get back to the West Coast after a side trip to New York City.
Sometimes the detours were short. Along the lines of: "Let's just get off the interstate and drive some rural back-roads so that we can look at barley or corn fields and cows at 50 miles an hour as opposed to 80." But sometimes they were a little more interesting.
There are a lot of long straight roads through fields in this part of the United States.
Sometimes getting off the interstates took us to some rather scenic spots. There weren't any craggy mountains or dramatic rock formations around, but it is surprising how magic a place can feel with just a few autumn leaves on the ground.
Or more than a few.
Any break from the interstate was a welcome relief, so we began to really enjoy detours through small towns.
And larger ones.
One of our more interesting detours was to visit Frank Lloyd Wright's Taliesin. In our haste to make our way to New York and back, we had missed out on a visit to the famous Fallingwater. Even in our short time in New York City, we somehow managed to miss the Guggenheim. There was no way we were passing up a chance to tour Taliesin.
It worked out to be a perfect book-end to our time in the USA.
When we first arrived in Phoenix, Arizona—two bleary-eyed confused Kiwis, with only their backpacks and jandals— we had gone on a tour of Taliesin West (Frank Lloyd Wright's Winter home and architecture school). Now, nearly six months later, on our way to Mexico—with a car full of stuff and holes in our jandals—it made sense to visit Taliesin, the original Summer home and architecture school.
To this day, students at the Frank Lloyd Wright School of Architecture still transfer seasonally between the two sites. The week we had visited Taliesin West, we had arrived a week after the students had left the Arizona for the Summer school in Wisconsin. When we arrived at Taliesin, it had been a week since the students had packed up and moved from the Wisconsin school back to the warmer climate of Arizona for the winter.
This, combined with the coating of autumn leaves on the ground and the chill in the air made it clear to us that our summer in the US and Canada was finished. It was time to drift south and continue our journey through Latin America.
In the absence of exciting detours to take from the interstate, we took to looking for exciting scenery in the skies above.
The next major detour on this leg of the journey was Mt Rushmore in South Dakota. Although as it turned out, it wasn't really the mountain that we ended up looking at. The Black Hills area was jam-packed with interested sounding tourist attractions, so we picked a few that sounded like fun and took a break from the Interstate driving.
We visited the brilliant, free Museum of Geology, packed to the brim with fossils, rocks and all things interesting and ancient.
Not quite done with old fossilised things, we stopped by a petrified forest.
We had intended to visit some caves, but were distracted by the Reptile Gardens, where yet again, we attended a snake talk for kids. This time Emma got to pat an albino Burmese Python, although there were plenty of other critters to view in the gardens themselves:
But apparently not all fun things are available for those over the age of five. Disappointing.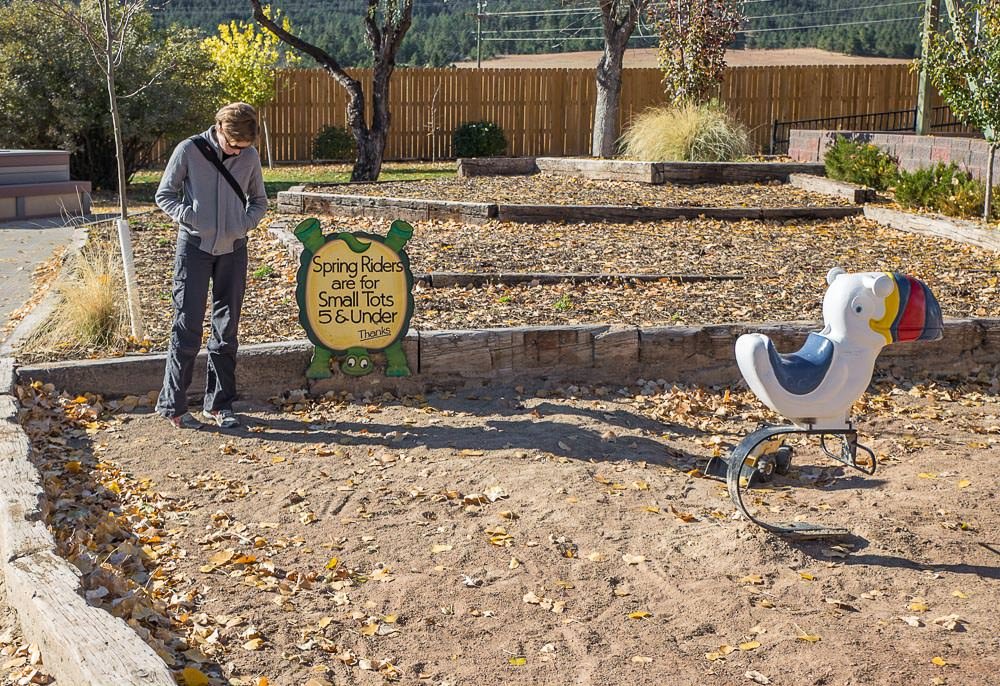 The attraction that had brought us to the area, however, remained elusive. We arrived at the carpark, used to not having to pay for National Parks because we had already splashed out on the 'America the Beautiful' pass that had covered all our entry fees thus far. When we were told we had to pay to park our truck in order to get close to the monument, we opted to be complete cheapskates and just have a look from the road.
Instead, we spent the parking money going on a tour of the still in progress, much larger and possibly more controversial Crazy Horse Monument.
As we continued west into Wyoming, it was time for our own close encounter of the third kind. Nevada had not been forthcoming with alien life, but maybe, just maybe we would have more luck at the Devil's Tower.
Not so much. But it was worth the detour to visit the dramatic column of igneous rock. It is a pretty huge tower, looming 386m (1267′) over the surrounding landscape.
The only strange life forms we encountered in the area were however, some Prairie Dogs:
You would think that by now we were done with detours, but there was a small National Park not far down the road that we had to stop by and check out…  in the next blog post.