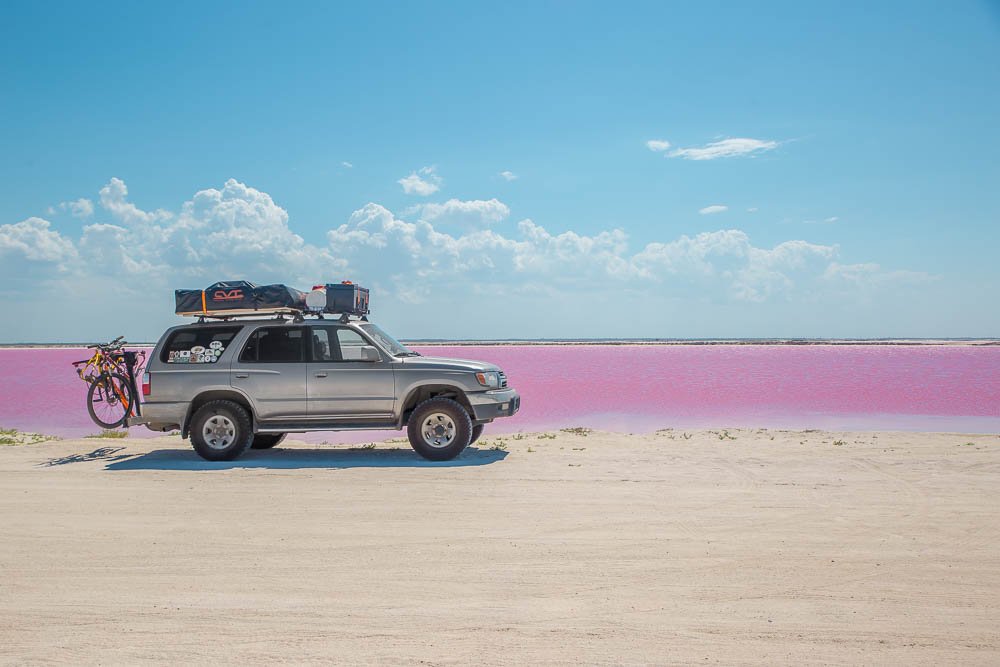 Our holiday from our trip hadn't gone exactly to plan. But here we were, back in Mexico and ready to give the Yucatan another go. It might just be a mosquito infested swamp, but we knew there were still some hidden gems out there for us to discover. Including a grand monument to one of the most dramatic events in the history of our planet.
Wanting a bit of time to relax, we made our way back to Izamal, since we'd enjoyed our stay there prior to heading to Cuba.
The stylish, matching yellow buildings in the town centre were certainly one reason to return. But a peaceful, relaxing campground with all the amenities also encouraged us to stay for a few days.
We were both feeling a little worn out after our visit to Cuba, so we figured this would be just the ticket.
We spent a couple of days doing nothing. Followed by a couple of days working on getting our Roofdog Media site up and running, it was nice to do something productive.
Obviously this meant we had earned a few beers.
While we were there, we met a few nice critters.
And some not-so-nice critters.
Conveniently, while we were there, we managed to cross paths with our friends Simon and Karie (Our Road Life) who arrived just in time for our last night in the campground.
Friends, beer, cheap food, long sunny days, a peaceful campground and a quaint little colonial town to explore—it was great to be back in Mexico!
Although if we were to complain about it, we'd have to say that it was a little hot. Oppressively hot. Hot like an oven, but without the freshly baked chocolate chip biscuits. Simply hot for no reason. Like a relaxing afternoon in the fiery furnaces of hell. So you know. A little toasty.
Despite the heat, we found our few days of peace and quiet in Izamal to be just what we needed, we were refreshed, re-energised, relaxed and this meant we were ready for adventure.
First stop. Some cenotes.
For those of you not in the know, cenotes are big holes in the ground full of water. You might be thinking "Isn't that just a pond?". Well yes, and no. They are better than ponds.
A cenote is a sinkhole formed in limestone rock and naturally filled with fresh groundwater. Some are open to the sky above and others remain closed over with a rock roof with only small openings to gain access by. There are countless cenotes dotting the landscape of the Yucatan Peninsula.
The quality and size of cenotes varies greatly, some are extremely popular and busy with built up infrastructure around them and some lesser known with little or no surrounding infrastructure. Stopping at every cenote for a swim would be like stopping at every Mayan ruin in the Yucatan. It would take ages and unless you are a true cenote (or Mayan ruin) buff you would probably find half of them to be pretty disappointing.
Our friends George and Jenine (Traveling the Americas) had visited Tres Cenotes in Cuzuma and enjoyed their time there, so we decided to follow their lead.
After a night camping in the car park at the entrance to the cenotes, we were ready bright and early in the morning to take the first tour of the day, this meant that not only did we get to visit three fabulous cenotes, but we had them all to ourselves. It did mean we had to wait around for a bit while everyone got the horses washed and their carts set up.
Yes, that's right, horses. There is no need to walk the few kilometres between the car park and the three different cenotes, the local community have set up a small rail track plied by guides with horses and carts. These horses seemed pretty happy with their job and appeared to have been fed, unlike their Cuban counterparts.
First stop, the cenote with the most interesting entrance.
Inside this particular cenote, the swimming wasn't that spectacular, the guide held a torch while we swum out into the dark cave. But at least it was a bit more impressive than the muddy puddle we had visited in Cuba. We were hoping the next two looked a little more like the cenotes on the brochures.
Ok, now we're impressed.
Jumping in to the cool, deep, clear water was like entering another world, the shimmering light from the natural skylights above danced on the water's surface and twinkled below. Tiny fish darted about in the turquoise water. The water was so clear that it looked shallow, but any attempt to dive to the bottom soon made it abundantly clear that this was some very deep water. We were told it was over 30m deep, but couldn't reach the bottom to check.
The final cenote (which was actually the second one—the guide had taken us to visit them out of order so that we could enjoy time in each cenote all to ourselves) was even deeper and an impressive shade of azure blue.
The Yucatan does indeed have some hidden gems.
Now it was time for the true highlight of our time in the Yucatan.
Sure, we could dilly-dally swimming in cobalt blue cenotes, visiting ancient Mayan ruins and poking about in little colonial towns. But the real reason we were here, as I'm sure is the case with most visitors to the Yucatan, we were going to pay a visit to the centre of the Chicxulub Crater.
The Chicxulub crater is so named, because the centre of this crater lies just off the coast of the small seaside town of Chicxulub. There isn't much to see by way of actual crater or anything. The Yucatan is, after all, flat as a pancake and no 66 million year old meteor crater is going to change that.
Also, the crater is actually sufficiently large that we had spent plenty of time within it's confines, Izamal and the Tres Cenotes are located on it's outer rim. The town of Merida is located even closer towards the centre.
So even though we had already spent almost two weeks within the confines of the crater.
Even though we had already visited the far more spectacular Meteor Crater in Arizona.
Even though we wouldn't even be visiting the actual centre of the crater.
We made our way to the town of Chicxulub.
Why were we interested?
This particular 66 million year old meteor crater was formed by the impact of a space rock that most likely wiped out the dinosaurs—therefore representing the sole reason that I do not own a pet T-Rex. (Or that a T-Rex doesn't have a pet Emma, who knows how things would have panned out if it hadn't been for this space rock impacting the planet…)
66 million years ago a rock, of approximately 10 km in diameter came hurtling through the earth's atmosphere and smacked into our little blue planet. Striking just off the coast of modern day Chicxulub it left a crater 180km in diameter and 20km deep.
From this point scientists disagree (as they tend to do on such things). Aside from upsetting everyone in the immediate area, there is a very good chance that the fallout from this impact resulted in the extinction of a whole lot of dinosaurs.
As a result, in the modest town plaza of modern day Chicxulub there is an… erm 'grand monument' to this mass-extinction event—we were lucky enough to visit it.
We knew we had now seen the best the Yucatan had to offer. We figured we would just check off a few remaining stops en route to renew our temporary vehicle importation permit on the Belizean border.
We started with a peaceful night camping by a lagoon, which was full of pesky flamingos and some other bird that wished he was a flamingo, but didn't quite make the cut.
Then we stopped at some Mayan ruins we had driven past a couple of times, there were a lot of signs pointing to them, so we felt obliged to stop in and check them out.
Went for a quick splash in another cenote.
Spotted a boat load of Pelicans.
Literally.
Found a lovely little pink lagoon.
Which we deduced would be a good location to search for a few more flamingos. It turned out they were in the neighbouring, boring, ocean-coloured lagoons.
It also transpires that they look ridiculous when they fly:
We stopped by a few more Mayan ruins:
Ok, those ones weren't really that dramatic, but there's always another ruin just around the corner.
This time it was a few more Mayan ruins in a convenient coastal location.
Despite all these interruptions, we made our way just in time to renew our vehicle permit on the Belizean border.