I suspect it is considered a crime to visit British Columbia or Alberta and not pay a visit to Jasper and Banff.
Not wanting the Canadian Mounties to angrily chase us out of the country we made the detour to check out these two stunning but expensive highlights of Southwestern Canada.
The first stop was Jasper.
After travelling to some more out-of-the-way places it was a bit of a shock to the system to arrive at Whistler's Campground. With approximately 604 camp sites and located just out-of-town, it is convenient place to stay.
Yes, 604 camp spots.
Not quite the peaceful backwoods experience you might be expecting, but surprisingly this park fills up–We arrived just at the end of a holiday weekend, so it had indeed been full just before our arrival. But never fear, Wapiti Campground just down the road offers an additional 644 camping spots. 
We were camped just up there in site 17G, see if you can spot us on Google Earth… we're waving.
The reason for such an epic infrastructure it turns out, is because Jasper is actually pretty neat. We hadn't been sure, because places like this often don't live up to the hype.
The town itself was a pretty bustling tourist town, things were expensive, but we couldn't resist a stop at the local brew pub.
But the town of Jasper is not the reason everyone comes there, it is the surrounding landscape. It was at about this time that we realised we only had a few weeks to get ourselves down to Nevada for Burning Man so we probably didn't stay in the area long enough to do it justice. 
We splashed out on a ride on the SkyTram as a treat. Afterwards, we realised that if we had walked up the hill we could have had a ride down for free, thus eliminating the downhill walk which nobody likes anyway. Oh well, live and learn, at least the view was spectacular.
Although maybe not as clear as it could have been due to the smoke from distant forest fires that was filling the air.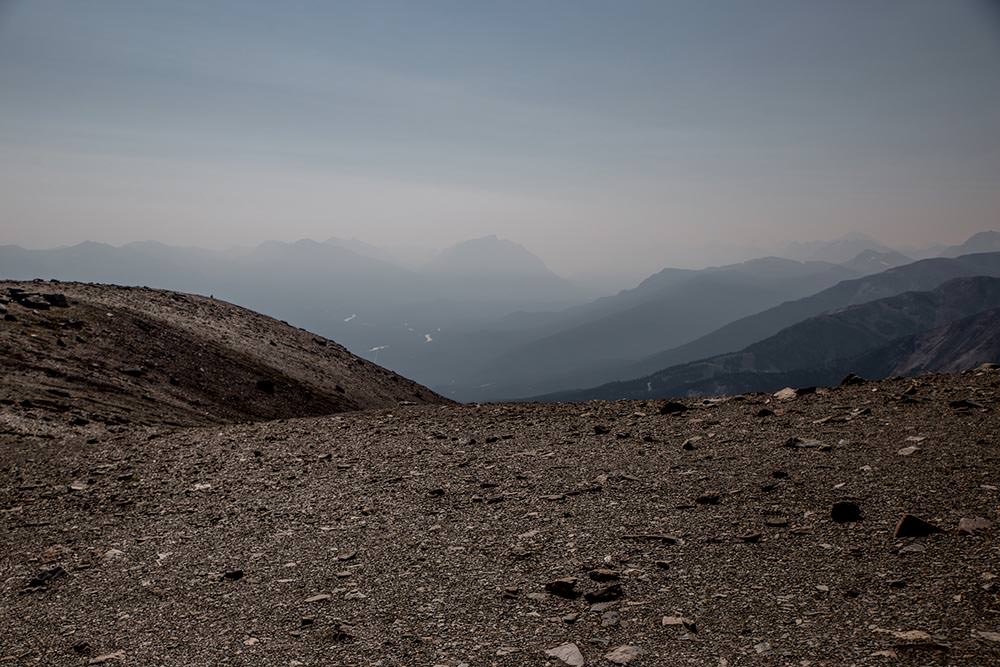 Still pretty though.
A casual walk to the top of Whistler's Mountain from the upper SkyTram terminus makes for one of the easiest walks to the top of a mountain you are likely to experience. And again, the views:
The problem with only having a couple of days to experience Jasper is that there are so many amazing sounding walks to do in the area, you end up only having time to sample a few. As we both have short attention spans (we blame video games) we opted for taking a number of short walks. Somehow we still ended up clocking up close to 30km over two days, but I guess there was a lot to see.
The highlights were Maligne Canyon: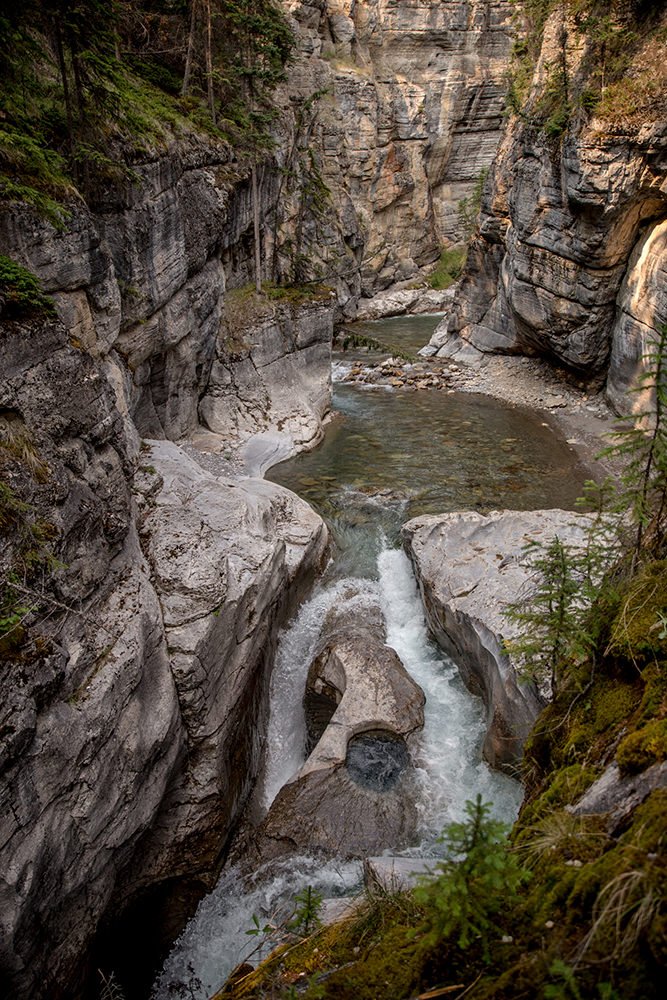 And the Valley of the Five Lakes (We actually ended up doing this one twice after not paying attention to the signs, but it was a pretty fun walk.)
Complete with little nibbly fish for a genuine Canadian fish foot spa.
A trip to Jasper would not be complete without a canoe ride on Lake Maligne. There are no photos of this event due to our brand Our new GoPro spontaneously ceasing to work. Turns out GoPro have pretty abysmal customer service. The insanely slow email replies, combined with being a rather inflexible company has meant that since Jasper, we have been sans GoPro and missed a lot of video and photo opportunities, so we can't say we would give them any kind of glowing recommendation.
Probably avoid them altogether if you can…my recommendation would be to just draw a picture instead. 
The canoe trip was exactly as you see them on TV. A peaceful paddle along a calm lake, exploring empty beaches and spending time soaking up the tranquility of nature.
Except the first 15 minutes.
That time was spent going round in circles, cursing loudly at each other and wondering why we hadn't just hired kayaks. Fortunately, when canoeing they give you only a very short paddle (oar?) and these aren't quite long enough to use to push each other out of the canoe. I suspect this design is intentional.
Here's a photo of Medicine lake to make up for the absence of canoeing photos (rest assured, that had there been some, they would have been hilarious).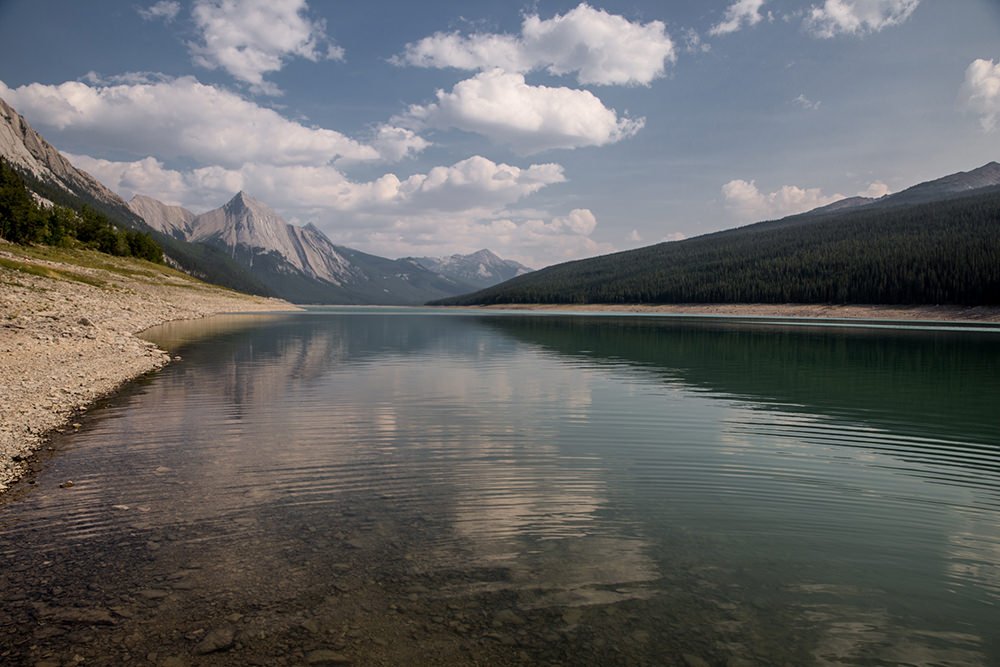 Medicine lake is interesting because of its ability to mysteriously disappear over winter.
There are no visible channels draining the lake, which fills up with glacial melt water every summer. But as the supply of water filling the lake decreases in winter the water drains out the bottom of the lake through sink holes into a hidden underground cave system, emptying the lake. While we were there it was full of plenty of water and we were bold enough to dip our toes in it without being sucked into any invisible underground cave systems.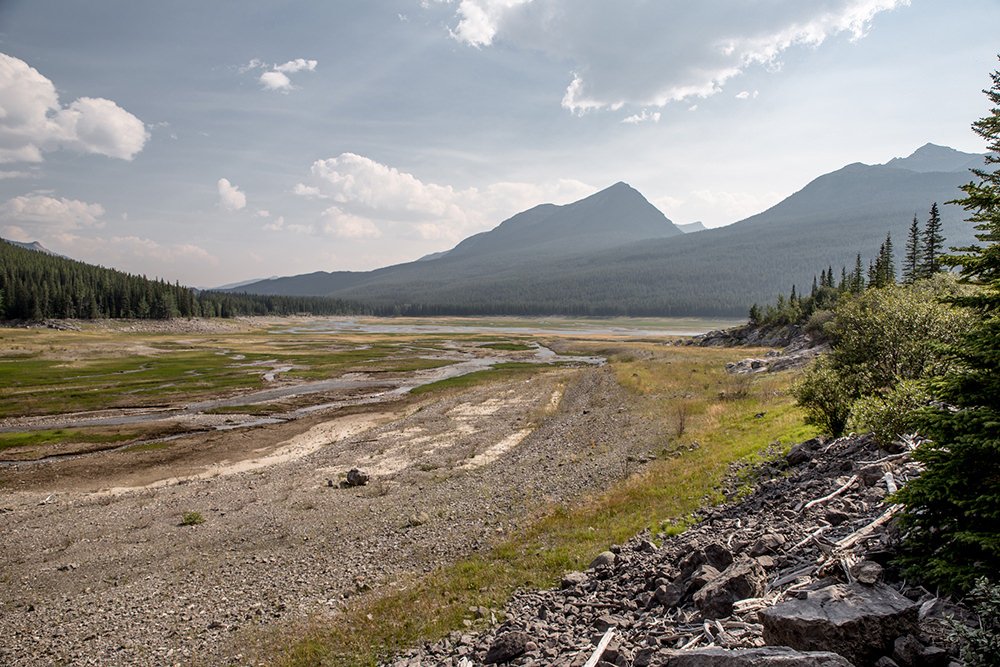 The time came to continue south and leave Jasper, finally getting the opportunity to drive the famed Icefields Parkway.
The Parkway includes slightly more than its fair share of dramatic scenery.
Including waterfalls: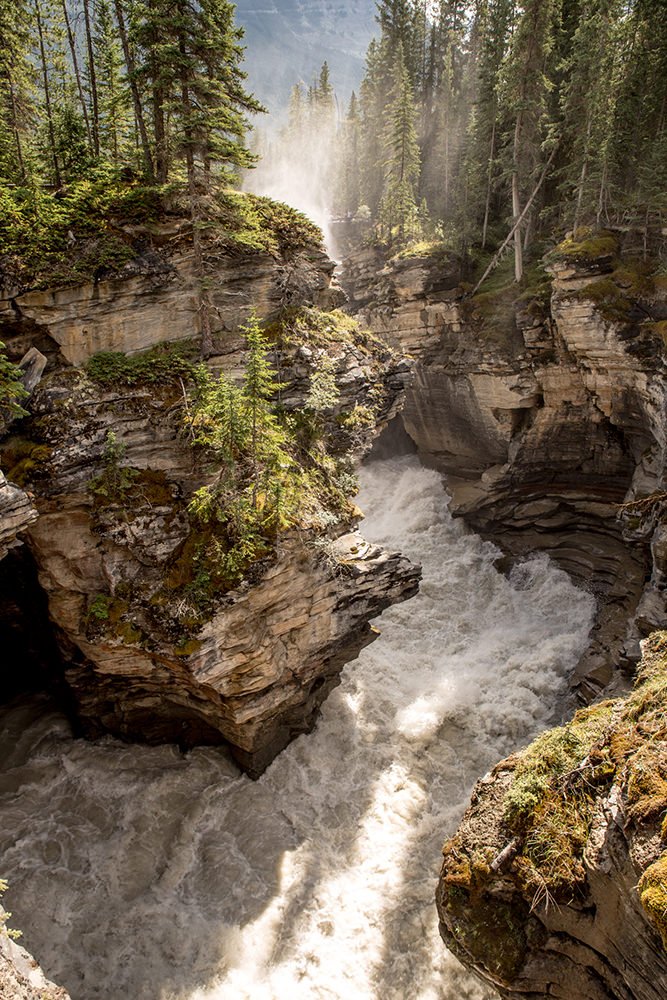 That were packed with other tourists, can't really complain as we were some of them. (Although I do feel some people put a bit too much effort into getting the 'perfect' photo with their iPads…)
They even had a glacier.
We hadn't realised that walking up onto the glacier was an option for those not wanting to fork out money for a tour, but no one stopped us as we walked out. 
Unfortunately, because we hadn't expected to be able to access the ice, we had left the car unprepared for glacier travel. 
But that wasn't about to stop us exploring. Turns out there is a fair bit of grip in a pair of jandals. Knew they were the national footwear for a reason.
We also took a quick walk up to the top of Parker Ridge, as we neared the top we commented on how small and far away our truck looked. 
After checking out the sights around the top
We made our way back down to the truck. Only to realise that we had left it unlocked the entire time.
Thanks for not stealing our stuff Canada! You guys are great! 
Vehicle security upgrade number one:
Lock the doors. 
We arrived in Banff late in the afternoon and had plans to check out the local sights the next day. After a night of pretty angry sounding thunder storms, the rain was unrelenting the next morning. With the call of Burning Man and time ticking by, we opted to head back west, this time towards Whistler and continue our journey south. 
Sorry Banff, we are sure you are awesome too!